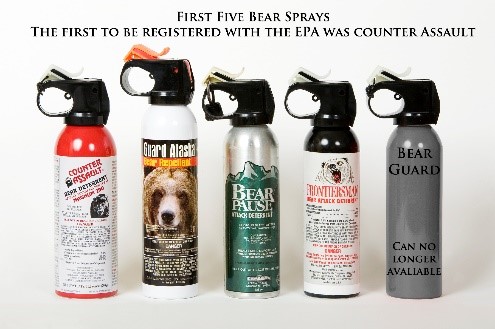 In the mid-1980s Carrie Hunt, a graduate student at the University of Montana, conducted experiments to see what may stop a charging grizzly bear. When she tested personal defense sprays and law enforcement/military pepper sprays, she found potential but also obstacles to overcome for effective use on bears. Her research led to an understanding of what the active ingredients in bear spray needed to be, and how it worked in different charging bear scenarios. A volunteer to the project, Bill Pounds, successfully developed a concentrated formulation that was well-atomized and able to be dispersed in a powerful, expanding cone-shaped cloud that did not require aiming. Their bear spray could discharge for more than seven seconds, spray 30 feet, and be deployed by simply directing the spray downward in front of the charging bear. These results were a breakthrough that began the bear spray industry; and has saved the lives of people and bears.

The Be Bear Aware Campaign strictly believes in the University of Montana's original standards for bear spray. Their recommendations are to ensure sufficient protection in a variety of bear charge/attack situations such as:


More than one bear charging/attacking from different directions;
Repeated charges/attacks by the same bear;
Defending yourself after spraying a bear that has attacked someone else in your party;
Exceptionally aggressive bears (a mother with cubs, or a bear protecting a fresh kill);
To compensate for weather conditions such as wind, rain and cold;
Erratic spraying due to the fear factor of the situation; and
Reserve spray for the hike out after a charge or attack.
Bear Spray plays an important part in reducing attacks during human encounters with bears. It is a good last line of defense, but it is not a substitute for vigilance and it does not replace appropriate safety techniques.
Bear spray should only be used if you are charged by a bear or other wild animal. It is not intended to be used on non-threatening wildlife. Whenever possible, give the bear a chance to leave, or for you to attempt to leave the area. Never spray yourself, your clothing, or your tent - doing so could actually attract a bear to the scent. You should also be aware that bear spray has its limitations as well - it can be adversely affected by rain, wind, cold temperatures, and how close or aggressive the bear is.