The Brown Bear species is the most widely distributed bear across the globe. They can be found in many countries throughout Europe and Central Asia, China, Canada, and the United States. There are approximately 200,000 brown bears in the world; with Russia having the largest population at 120,000 bears. North America is home to about 55,000 brown bears; wherein Western Canada has roughly 25,000 bears, while the United States has about 30,000. Most of the U.S. brown bears live in Alaska with a small population of about 1,500 in the lower 48 states of Montana, Idaho, Wyoming, and Washington.

Evolution: Brown bears, and their ancestor the cave bear, are believed to have evolved from Ursus etruscus, (a direct descendant of Ursus minimus) that originally lived in Asia 500,000 years ago. The brown bear likely moved into Europe and North Africa 250,000 years ago, and on to Alaska 100,000 years ago. They continued their journey east into Canada and the great plains of the United States, but it wasn't until about 13,000 years ago that brown bears migrated south into Mexico.

Threatened and Endangered Species Status: Although brown bears in general are considered a species of least concern, the population that continues to live in the lower 48 states, regionally known as grizzly bears, were placed on the U.S. Fish and Wildlife Service's Threatened and Endangered Species list on July 28, 1975. This isolated population of brown bear is considered threatened because of their population decline and reduction of their habitat to less than 2% of their traditional range due to excessive hunting and loss of food sources as humans ever expanded west across the United States. In Mexico, the grizzly bear became extinct as recent as 1964.

Current Habitat: The North American Brown Bear's habitat generally consists of forests, meadows, mountains, valleys, and coastal regions. Male grizzlies have large areas they consider their home range whereas female bears tend to stay within smaller ranges.

Description: All brown bears have dished-in facial profiles, small rounded ears, and obvious shoulder muscle humps. Their tails are short and stubby; and each forefoot has five curved claws.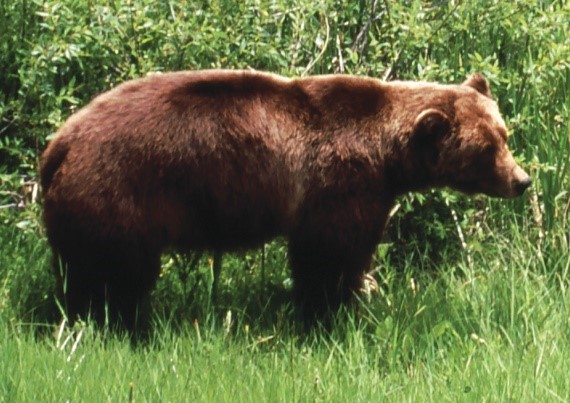 The front claws are often three to five inches long, whereas claws on the bears' hind feet are considerably shorter. Each adult bear has 42 teeth including four prominent, curved canine teeth, 12 incisors, 16 premolars and 10 molars.

Life Span: Brown bears in the wild generally live for 20 to 25 years. The oldest known wild brown bear lived to the age of 39 and the second longest was 35 years old. The longest living brown bear in captivity lived to the age of 35 years old.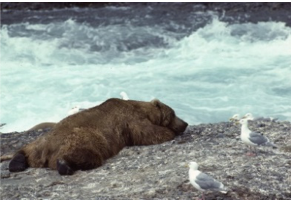 Size: A Brown bear's size varies the most of all bears. Their size differences are largely due to the area in which they live and whether there is an abundant quality food source. Coastal brown bears that live in Alaska and off British Columbia enjoy large salmon runs and can become as large as polar bears, weighing in at as much as 1,600 pounds. On average, coastal males weigh between 800 and 1,200 pounds while females range between 500 and 800 pounds. A coastal brown bear standing on all four feet is approximately 4 ½ feet at the shoulder and may reach nine feet in length. Standing upright, some male brown bears tower over eight feet tall.

Grizzly bears are proportionately smaller than coastal brown bears as their diet is more plant based and varies depending on the season. Grizzly males are larger than females. They stand about three and a half feet at the shoulder, average six to seven feet in length, and can weigh 800 pounds or more.

Fur:
Brown bears come in a variety of colors ranging from black, dark brown, to blond, which is why they are often mistaken for black bears. Their hair is long and thick with conspicuous silver-tipped guard hairs. Some unique common names reflect their unique grizzled fur, such as the silver-tip, or golden bear due to a glossy gold streak that appears almost metallic in bright sunlight.

Diet: Brown Bears are omnivores. Although they are a formidable apex predator with no enemies except humans, they are opportunistic eaters and prefer not to put a lot of energy into catching prey. If they do go after an ungulate (hooved animal) they will take down the weak or young.

A coastal brown bear's diet consists of a lot of salmon; whereas a grizzly bear's diet is comprised of about 75% of plant foods. In certain areas in and around Yellowstone Park where there is an abundance of bison and elk, their diet is meatier.

Moths, whitebark pine nuts, ungulates, and salmon or trout are the best nutritional foods for a brown bear. However, depending on the season and food availability, brown bears also eat wolves and winter-killed animals such as elk, bison, and moose in the Spring; and grasses, a variety of plants and roots, leaves, berries, nuts, rodents, insects, ants, moths, fish, and carrion throughout the rest of the year. A brown bear's long, curved claws and powerful shoulders are well-suited for digging up these food sources.

In the fall, brown bears go through a phase called hyperphagia where they eat massive amounts of food to bulk up in order to have enough fat reserves to hibernate for the winter. They may gain as much as three pounds a day. Unfortunately, the bears will also eat human food and garbage when it is inappropriately available. Eating human foods can lead to nutritional and health problems, as well as a safety problem for people and the bears.

Social Tendency: Brown bears tend to be solitary animals but not territorial. When there is an abundant food source, like salmon in Alaska, coastal brown bears do not mind tolerating other bears. However, they do establish a pecking order, or hierarchy, where the strongest bears get first choice of fishing and relaxation areas.
This hierarchy generally begins with male bears, then females with cubs, then single adult bears, and extends all the way down to the weakest and youngest bears who sometimes must wait for their turn to fish or get the poorest areas to feed and reside. Occasionally a male bear will give up his feeding spot to a mother bear with cubs in order to avoid a conflict that could result in injury.

Mating: Brown bears begin to breed when the females become 4 or 5 years old.
Bears are polygamous meaning they typically have more than one mate, and their cubs can be from different fathers. The peak mating season is from May to mid-July and female brown bears generally mate once every three years. Although a brown bear's entire gestation period can be up to 270 days, the fertilized eggs do not begin to become embryos until the fall and it only takes 6 to 8 weeks from embryo development until birth. Not all impregnated females will develop embryos if food was too scarce and their bodies did not obtain sufficient fat to sustain them. Pregnant bears will den during the winter and give birth while hibernating, usually in January and February. Anywhere from one to four cubs may be born but most often there are two or three cubs in a litter.

Cubs: Newborn cubs weigh approximately 1 to 1 ½ pounds, and are born with very fine hairs but not fur. Bear cubs do not open their eyes until they are five to seven weeks old. Mom and cubs generally stay in their den until about April before emerging; and often stay nearby their den for some time afterward. The mother will begin weaning her cubs at the age of five months, but they will stay with her until they are 2 to 3 years old. Mother brown bears are fiercely protective of their cubs. Females are fully grown by 9 years old and males by 14 years.


Denning: It is common for a grizzly bear to choose a den site that is hidden by dense vegetation and often at the base of a large tree or on a north-facing slope. The dens usually have a small doorway just large enough for the bear to squeeze through, then a small hallway or tunnel to its sleeping chamber. The bear will line the chamber with pine tree branches or other available material which helps retain the bear's body heat and keep it warmer. The dens can take up to a week to make and often require a lot of dirt to be moved by the bear. The small entrance and chamber cavity also help to keep the den warmer. Depending on the winter conditions, sometimes the entrance will get covered over with snow.

Hibernation: Brown bears will hibernate during the winter months in most parts of the world. The length of hibernation depends on a few factors: whether it is a pregnant female that births her cubs during hibernation; as well as how cold the winters are and whether or not food sources are plentiful. This hibernation period can be as long as 6 months or as little as a few weeks. Shorter hibernation periods are a result of warmer temperatures and ocean currents that bring warmer weather.

The body temperature of a hibernating brown bear drops slightly from its normal temperature range of 98.6 to 100.4 degrees to approximately 91.4 degrees. Its heart rate will go from approximately 45 beats per minute down to about 10-20 beats per minute; while the bear's breathing reduces significantly from 6-10 breaths per minute to just one breath in 45 seconds.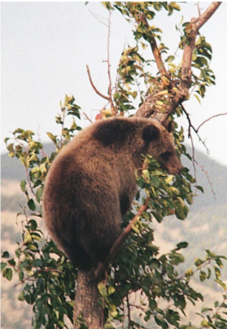 Unique Characteristics: Brown bears are very intelligent. They have excellent memories and are able to return to food sources they were shown as cubs. A brown bear's eyesight is very similar to a human's, and Native Americans say they have hearing that is acute enough to hear a pine needle fall from a tree. Their sense of smell is very strong and they are able to detect food many miles away. Brown bears are able to run at speeds greater than 30 miles an hour both up and down hill. They can cover 60 feet in as little as 1.6 seconds. They are also very good swimmers. Brown bears can climb trees though it is very rare for adult bears to do so because of their size and the shape of claws. Bear cubs, however, are known to be good climbers, especially in times of danger.